New Employees
Welcome to Georgetown University! Newly hired benefits-eligible faculty and administrative employees are offered a robust benefits package that includes medical, dental and vision insurance, retirement savings plans, tuition assistance, as well as time off for vacation, sick time, parental bonding and holidays. We invite you to learn more about your benefits and how to enroll. It's important to note, that newly hired or newly eligible employees have 30 days from their date of hire to make their benefits elections in the Georgetown Management Systems (GMS).
Important Legal Documents for New Employees
Benefits Overview Video
This video is approximately 20 minutes in length and provides a comprehensive look at your benefits package and enrollment process.
New Employee Benefits Orientation
Benefits orientations are offered at 1 p.m. every other Tuesday on Zoom. Watching the Benefits Overview Video before attending orientation is recommended. During Benefits Orientation, there will be a quick review of the benefits package, but most of the session will be focused on addressing your questions.
We strongly encourage you to attend orientation prior to submitting your benefits elections, once your information has been transmitted to the insurance providers, you cannot make changes until the next Open Enrollment season (with the exception of qualifying life events).
You can find resources for new employees, including the schedule for New Employee Orientation, at https://hr.georgetown.edu/new-employee-orientation/.
Benefits Quick Guide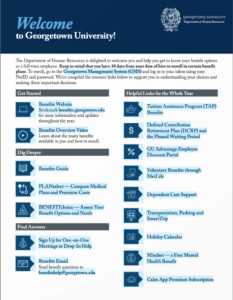 To further help you navigate your benefit options, we've created this Benefits Quick Guide to help you quickly find the information and resources that you need to select and enroll in your benefits.
When Benefits Take Effect
Medical, dental, vision, flexible spending and supplemental life insurance benefits for those hired into a benefits-eligible position will take effect on the first of the month following the date of hire or eligibility date. If your date of hire is the first of the month, your benefits take effect as of that date. This applies to electable benefits only (the benefits you sign up for in GMS when you first become eligible or during open enrollment). Basic life insurance, basic AD&D, short term disability, long term disability, and retirement become effective on date of hire eligibility. Please note that all benefit premiums will be retroactive to the applicable effective date.
Help
Need assistance making your elections in GMS? Try using the step-by-step instructions. If you have any questions regarding your benefits, you may do any of the following:
Explore your medical plan options with the PLANselect online chooser tool.
Email us at benefitshelp@georgetown.edu . This is the preferred method for contacting our office. We endeavor to respond to all email questions within 48 hours.
Call us at 202-687-2500 during our normal business hours (8:30 a.m. to 5:00 p.m., Monday through Friday).
Schedule a Zoom appointment with a benefits information specialist, you can find available times here (new window).
How to Enroll
Georgetown Management System (GMS) is the University's data management system, and houses all of your personal payroll and benefits information, time off requests, and timesheets. Different employees will have different roles and responsibilities in GMS, some of which will necessitate using the system on a dialy basis. We strongly encourage everyone to check their GMS account on a frequent basis to ensure that personal information is up-to-date and accurate. See the step-by-step instructions below for more guidance.
All newly benefits eligible employees have 30 days from their date of hire or change in eligibility to make their benefits elections online at gms.georgetown.edu (employees are not able to make benefits elections prior to their start date or activation in this system). We strongly encourage you to attend a Benefits Orientation before submitting your elections. Once your information is sent to the insurance company, your elections cannot be changed until the next open enrollment period or you experience another qualifying life event.