State of Benefits 2018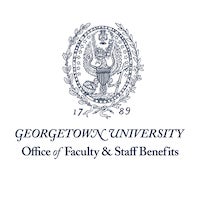 Dear Colleagues,
The mission of the Office of Faculty and Staff Benefits is simple: to provide outstanding choice, access and service in relation to the benefits offered by Georgetown University. We pride ourselves in offering competitive and comprehensive benefits. In preparation for the upcoming fiscal year, I write today to update you on the State of Benefits at GU and what you can expect to see through 2018.
As Georgetown University's Chief Benefits Officer, it is my responsibility to ensure that the benefits we offer are in alignment with the needs of our faculty and staff and the institution; and that these benefits are in step with our peers in higher education and the D.C. job market. One of our guiding principles is to minimize volatility while maintaining excellent value. Each year, our Benefits Advisory Committee reviews benchmarking data to help us understand emerging trends and how Georgetown University measures up against other employers. We also maintain an ongoing five-year strategic plan to review how we can enhance our offerings while being good financial stewards to employees and the institution.

CHANGES TO BENEFITS
After consultation with University leadership and the University Board of Directors, and other groups including the Faculty Senate, Staff & AAP Council and Benefits Advisory Committee, we are moving forward with some changes to better align with our institutional goals, the marketplace, and offerings from our peer institutions.
Rule of 75 for Retiree Benefits Eligibility (6/30/18)
The University offers certain benefits to retirees, including tuition assistance, life insurance and health insurance. The University provides a subsidy toward retiree health insurance premiums based on the retiree's years of service. Currently, retirees are eligible for health insurance if they have attained the age of 55 and have 10 continuous years of benefits-eligible service (working at least 30 hours/week) prior to retirement.
Effective June 30, 2018, the University will implement a "Rule of 75" by which, in order to be eligible for retiree health insurance and other benefits, retirees must have attained the age of 55; have at least 10 years of continuous benefits-eligible service; and their age plus years of service must equal to at least 75. In recognition of the significance of this change and the impact on employees' post-retirement planning, the University will grandfather those employees who, as of June 30, 2018, are 50 years old and have at least 10 years of service so that such employees' eligibility would continue to be governed by the current rules. This rule is consistent with many of our peer institutions.
Phased Waiting Period for Defined Contributions Retirement Plan (New hires only, effective 2/1/18)
Under the Phased Waiting Period, DCRP-Eligible Employees hired by the University on or after February 1, 2018 are eligible to receive a "matching" University contribution of up to 5% of earnings after one full year of service and a non-elective University "core" contribution of 5% of earnings after two full years of service.
CURRENT BENEFITS FOR FACULTY AND STAFF
Health Insurance Benefits
Through four health plan options across three insurers (Kaiser Permanente, two CareFirst BlueCross BlueShield options, and UnitedHealthcare), eligible faculty and staff are able to select a plan that meets the health and financial needs for them and their families.
Safety Net Benefits
The University offers a robust safety net to support faculty and staff in managing the cost and impact of unexpected health (and life) issues: Salary Continuance, Short Term Disability, Long Term Disability, Life Insurance, AD&D Insurance, Flexible Spending Accounts, Voluntary Accident and Critical Illness Insurance, Legal Insurance, Business Travel Accident Insurance and Long Term Care Insurance. This spring we will add Hospital Indemnity insurance to the list of offerings. Benefits-eligible faculty and staff will have a special midyear enrollment opportunity to test out voluntary benefits for the second half of 2018.
Retirement Benefits
Retirement savings through the Defined Contribution Retirement 403(b) Plan, Voluntary Contribution Retirement 403(b) Plan, Deferred Compensation 457(b) and legacy benefits through the Georgetown University Retirement Plan (GURP) supports employees in planning their future. In conjunction with these benefits, the University works with TIAA, Fidelity and Vanguard to provide ongoing financial wellness and education experiences and resources, including free one-on-one financial planning consultations offered on campus.
I am honored to serve and provide you with the best possible service through the Office of Faculty and Staff Benefits, Payroll Services and GUWellness. We are focused on continual efforts to provide the greatest choice, access and service balanced with the greatest value for the GU community.
If you have any questions about these changes, or about any of GU's benefit offerings, please contact the Office of Faculty and Staff Benefits at benefitshelp@georgetown.edu or 202-687-2500. I also host a monthly Benefits Q&A through Zoom where I answer benefits questions and discuss upcoming events, opportunities and changes. I encourage you to join me for one of our summer sessions: June 5 or July 10.
Be well,
Charles DeSantis
Associate Vice President for Benefits, Payroll and GUWellness
Chief Benefits Officer