Message for 2020 Dependent Care FSA participants
April 16, 2020
Dear Colleague,
We are contacting you because you are currently enrolled in a 2020 Dependent Care Flexible Spending Account (FSA) through Georgetown University. In light of the COVID-19 pandemic, you may have experienced some disruptions to your current or upcoming childcare arrangements.
Please note that participants may be eligible to increase, decrease or even cancel any future contributions to their 2020 dependent care FSA elections in certain situations. The chart below outlines several examples. If you choose to cancel your contribution, you will continue to have access to your existing FSA balance for eligible reimbursements through March 15, 2021. To request a change please complete this Dependent Care FSA Change Request Form.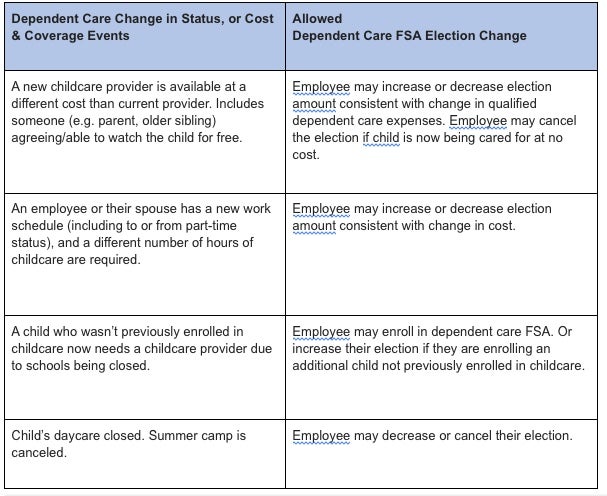 If you would like to request a change to your Dependent Care FSA – an increase, decrease or cancelation – please submit this Change Request Form. Supporting documentation may be required.
If you have questions about these options for changing or canceling your Dependent Care FSA elections, please reach out to us at 202-687-2500 or benefitshelp@georgetown.edu.
Thank you.
Be well,
Charles DeSantis
Interim Vice President and Chief Human Resources Officer