Open Enrollment for 2019 Benefits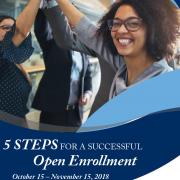 Open Enrollment is the time when you can enroll in, or make changes to, your medical, dental, vision, supplemental life, FSA, HSA and select voluntary benefits for 2018. Take some time to review your Open Enrollment Kit, peruse the website, schedule a one-on-one consultation, or attend a GUWellness Fair where representatives from all the benefit plans will be available to answer your questions.
Benefit elections for 2019 can be made in GMS (http://gms.georgetown.edu) from October 15 through 10 p.m. on November 15, 2018.
New for 2019
2019 Insurance Premiums: Spoiler alert: Most premiums remained the same or are decreasing in 2019. View preimums.
 
Kaiser High Deductible Health Plan with Health Savings Account: The new Kaiser HDHP 3 Signature is for those employees who love the quality and convenience of the Kaiser HMO but who also want the tax benefits of a health savings account. 

 

Learn more about Kaiser HDHP.
 

New Pharmacy Plan Provider for CareFirst and UnitedHealthcare: In 2019, prescription drug coverage for UnitedHealthcare and both CareFirst medical plans will be provided directly through CVS Caremark. Your pharmacy coverage will continue to be integrated with your medical plan, however, some formulary changes can be expected. All CareFirst and UHC members will receive two ID cards for 2019; one for medical plan and one for pharmacy plan. 

Attention members of 1199SEIU! Here's your 2019 Open Enrollment Highlights Kit. (This was mailed to your home address.) Click below to view:
English version
Spanish version
Reminders
If you wish to participate in a Flexible Spending Account (Health Care or Dependent Daycare), you must enroll every year. You may elect up to $2,700 for Health Care FSA and $5,000 (per household) for Dependent Daycare FSA.

If you don't plan to participate in an FSA or an HSA and don't need to make any changes to your benefits for 2019, you need not take any action. Your premiums will automatically adjust.

If you elected or made changes to your Supplemental or Spouse Life Insurance during this Open Enrollment, you will receive an email from MetLife at the conclusion of Open Enrollment directing you to an online statement of health form. You must complete the statement of health form before your request for coverage can be considered and, in most cases, approved.

Make sure that you finalize and submit your changes! In order to complete your election process, it is important that you click through all of the screens in the Open Enrollment Change Event. The final confirmation screen will have an I Agree box that you will need to check before clicking the Submit button to finalize your election. If you miss either of these steps, your election changes will not be submitted. Remember, if you have begun your Open Enrollment Change Event you can revisit your elections at any time by logging in to GMS,hitting the Benefits icon and clicking the button that says Change Open Enrollment. Any time you make changes, you must continue through to the confirmation page and click on the I Agree and Submit buttons for your changes to take effect.
STEP-BY-STEP INSTRUCTIONS
Changing Your Elections
You can make changes to your Open Enrollment elections any time until November 15, even after you've submitted them. Just log in to gms.georgetown.edu and click on the Benefits icon, then click the Change Open Enrollment button to open your elections again. The last submitted election will take effect on January 1, 2019.
Support
One-on-One Open Enrollment Sessions (30 minute slots available)
Need help making your elections in GMS? Have questions about medical plan options or other benefits? You may also contact our office at 202-687-2500 with your benefits questions, or stop by M-31 Darnall Hall for assistance making your elections in GMS.
Events
GUWellness (and Benefits!) Fairs
Come get your free flu shot and seated massage. As always, the big fair at Yates Field House will feature plenty of resources for being healthier at work, home and play, including health screenings. Benefits representatives from GU and our many benefit providers will be on hand to help you with any questions you have.
10/15 (Schoold of Continuing Studies, Downtown Campus 11:30am – 1:30pm)
10/16 (Bone Marrow Donor Program, Rockville, 11:30am – 1:30pm)
10/24 (2115 Wisconsin Ave, NW, 1st Floor, 11:30am – 1:30pm)
11/2 (Yates Field House, 11:00am – 2pm)
11/5 (Night Shift, McCarthy Hall, McShain Lounge, 10:45pm – 12:15am)
11/12 (Law Center, 12th Floor Gewirz, 11:30am – 1:30pm)
---
Benefits Q&A with Charles DeSantis, Chief Benefits Officer
Join Charles from your computer for one or more of these weekly Zoom Q&A sessions being held from 3 – 4pm every Tuesday throughout Open Enrollment:
October 16 – Open Enrollment Overview
October 23 – New Kaiser HHDP with HSA Plan
October 30 – Life Insurance Options with MetLife
November 6 – Pharmacy changes for CareFirst and UHC (CVS Caremark)
November 13 – Open Enrollment Overview